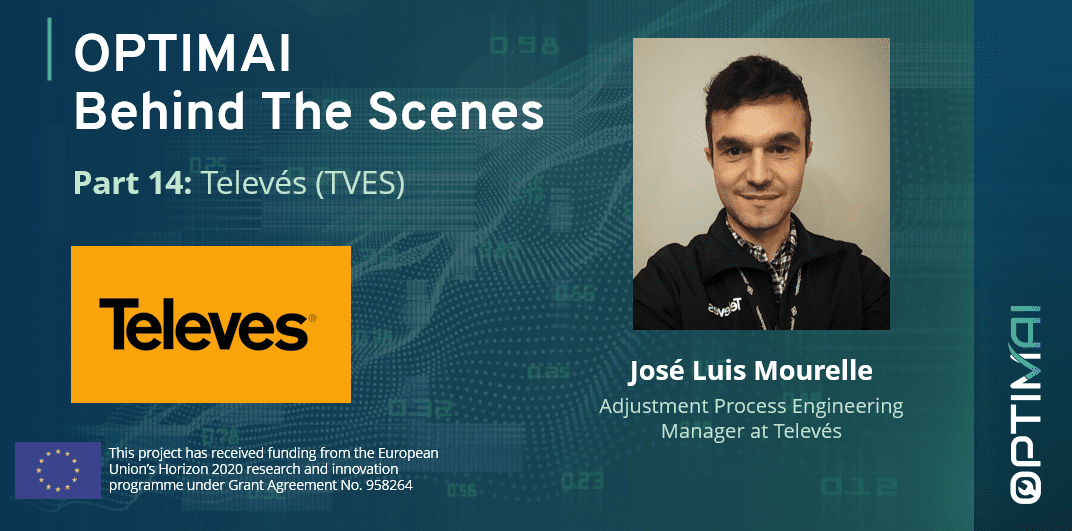 In this week's installment of OPTIMAI: Behind the Scenes, we spoke to our partners in Televés (TVES). José Luis Mourelle, Adjustment Process Engineering Manager, tells us about his role on the OPTIMAI project, his experience with Horizon Europe so far, and the landscape in which OPTIMAI's pilots will take place.
Hi José, thanks for speaking to us today. Could you start by introducing yourself and telling us where you are based?
It is my pleasure to participate. My name is José Luis Mourelle and I lead the Televés adjustment process engineering team involved in the automation of adjustment, verification, and machine vision processes. Our company, based in Santiago de Compostela (Spain), has over 60 years of experience designing and manufacturing products and solutions for the distribution of TV services and data networks in homes, buildings, and cities. We have 11 international subsidiaries that make Televés products available in more than 100 countries worldwide.
What does your typical working day in the OPTIMAI project involve?
After assisting in the identification of Televés' use cases, my contribution to the project consists of collaborating on some required deliverables, as well as overseeing the development of the necessary modifications to our OEE (Overall Equipment Effectiveness) system, so that it has the capability to calculate the KPIs (Key Performance Indicator) that have been described in the OPTIMAI project.
What is your main task in the OPTIMAI project?
Televés is one of the pilot partners in OPTIMAI. Our task during the first phases of the project has been to identify and define the use cases and their requirements. The scenario selected for the use cases has been our automated antenna manufacturing line in which we propose to: reduce the number of defects, monitor and detect incorrect configurations of the production line, and optimize production planning.
In addition, within the scope of the OPTIMAI project, Televés is involved in a development task to add new functionalities and improvements to our OEE system. OEE is the metric we use to quantify efficiency losses in our manufacturing processes and to find productivity improvement opportunities. We would like OEE to be the indicator that quantifies the improvements obtained by the solutions proposed by our OPTIMAI technological partners.
What do you like most about your role?
I would highlight working on a project with strong research and development content and the opportunity to learn from partners with extensive experience in key Industry 4.0 technologies.
Has working remotely affected your work on OPTIMAI in any way?
So far I consider that the progress of the project has not been affected for this reason. Possibly in the final phases of the development of the solutions for our use cases (as well as in the integration and deployment phases) it would be more problematic working remotely.
What makes your organisation ideal for participating in the research/activities of OPTIMAI?
Televés has a keen and long-lasting tradition of designing and manufacturing technological products for TV and data distribution networks. Our market position is based on the quality that our products offer our professional clients, and that quality is derived from a continuous search for excellence in our manufacturing facilities. No process is better defined for exploring new industry ecosystems through artificial intelligence and virtualization than the production environments available at Televés.
What do you see as the biggest challenge for OPTIMAI?
Perhaps the biggest challenge of the OPTIMAI project is to solve significant technological challenges involving so many actors while COVID restrictions remain in place.
Could you describe the overall expected impact of the OPTIMAI project in three words?
Smart automated processes.
What would be your advice to anyone interested in getting involved with a Horizon Europe project?
Being an active part of any technological project transcending European frontiers and country lines is a top goal for any engineer who wants to make an impact. Horizon Europe gives opportunities to work in international teams, where leadership roles can be polished, learning from other companies that may bring different perspectives to the challenges each project face. My advice would be an obvious one, to be an active part whenever possible.
Thanks for taking the time to speak with us, José! We look forward to more updates from the team at the TVES.
To keep up to date with the Behind The Scenes series and all OPTIMAI news, make sure to sign up for the OPTIMAI newsletter on our homepage and follow us on Twitter, LinkedIn, and YouTube.