The OPTIMAI pilot studies play a key role in demonstrating how European manufacturing processes can be optimised through the use of AI and digital twinning technology. The pilots form the cornerstone of the empirical work of the project.
To maximise the impact of OPTIMAI on European industry, the project team is developing solutions that can be applied to a wide range of industrial settings. These solutions will be tested and validated in three selected pilot sites that cover a number of industrial domains:
Kleemann: Manufacturing of lifts (Greece) 

Televés: Manufacturing of antennas (Spain) 

Microchip Technology Caldicot Ltd.: Assembly of microelectronics (UK) 
Each pilot includes three different use cases:
1. Zero defect quality inspection:
Focuses on detecting defects, analysing their causes and predicting emerging deficiencies.
2. Production line setup-calibration:
Focuses on an automated quality control loop between inspection and machine setup and a context aware interaction environment for operator and production equipment.
3. Production planning:
Focuses on virtualising the production line to enable cheap, fast and efficient production planning.
This pilot will demonstrate how the OPTIMAI solutions can be applied to the manufacturing of fully customised modern lifts. The focus will be on two particular stages of the Kleemann manufacturing process: 1) the hydraulic lift power units testing and 2) the loading and packing of complete lift systems.
The aim is to automate and speed up the quality inspection process, thus decreasing quality control costs and production time, to improve final product quality by identifying defects that slip manual inspection and optimising the setup, to reduce calibration time through automation and to reduce the defect rate through improved unit design and the use of digital twins.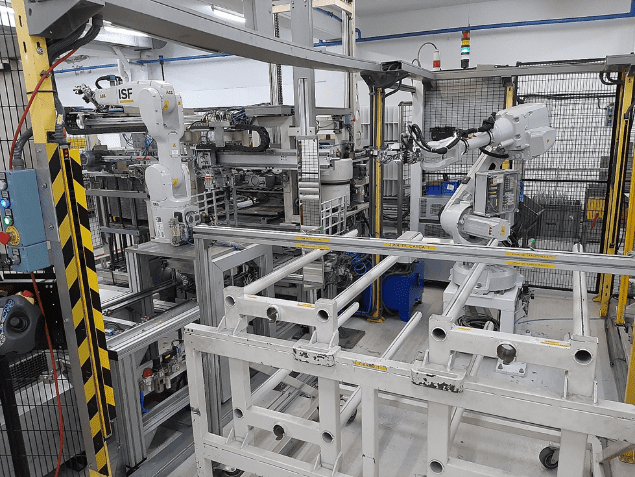 This pilot will demonstrate how the OPTIMAI solutions can be applied to the manufacturing of antennas. 
The aim is to optimise the antenna manufacturing processes by reducing scrap and predicting and preventing upcoming defects, cutting the setup time (through simulation and testing using digital twins) and speeding up human-machine interaction and decision-making using AI.
This pilot will demonstrate how the OPTIMAI solutions can be applied to high value manufacturing such as modern electronic component assembly. The focus will be on addressing challenges in three productions steps in the assembly of microelectronics.
The aim is to reduce the process failure rate through automated quality control, to speed up the machine setup time by simulating production scenarios using digital twins and to increase production capacity through increased understanding of production bottle necks.