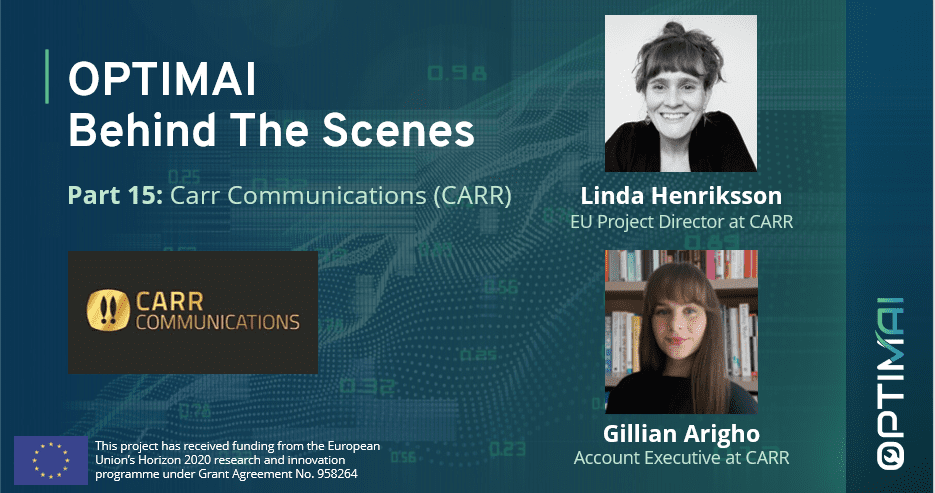 In Part 15, the penultimate issue of OPTIMAI's Behind The Scenes series, we spoke to project partners Linda Henriksson and Gillian Arigho from Carr Communications Ltd. In their interview, the partners shine a light on the communications and dissemination processes that surround the project and its results.
Hi Linda, Hi Gillian, thanks for speaking to us today. Could you start by introducing yourself and telling us where you are based?
Hi, my name is Linda Henriksson and I am the OPTIMAI Dissemination Manager. I work as an EU Project Director with Carr Communications (CARR) based in Dublin, Ireland.
Hello, my name is Gillian Arigho and I am an Account Executive with CARR. I work across OPTIMAI's social media platforms and the project website.
CARR is one of Ireland's leading SME providers of dissemination, communications, exploitation, education, training, and media consultancy with over 30 full-time and contract employees.
What does your typical working day in the OPTIMAI project involve?
We plan and create communications and dissemination material, run social media and online communications campaigns and monitor relevant media coverage and policy developments. We liaise with partners and key stakeholders on a day-to-day basis to coordinate activities, raise awareness and stay up to date on events and publications. When we need to be creative, we sit down for a brainstorm or work with our in-house design team.
What is your main task in the OPTIMAI project?
Linda: As the Dissemination Manager, my main task is to oversee the communication, dissemination and exploitation efforts of the project. I develop and implement the dissemination strategy and coordinate the dissemination activities. I ensure that all results are made available to relevant stakeholders, and that the reasons for the results being of interest, benefit, and relevance to them are communicated effectively.
Gillian: My role mainly concerns the social and digital media of the OPTIMAI project. My day-to-day work includes creating written and some graphic content for the project's website, Twitter, LinkedIn, and YouTube pages. As the project progresses and research papers are written by partners and results are obtained, it is our role to disseminate them. Online media plays a large role in creating awareness and garnering engagement for these pieces and the project overall.
What do you like most about your role?
Being part of a project on quality control in smart manufacturing, working with exceptionally talented individuals, and being able to apply our skills in creative ways while constantly learning more about new and innovative production technologies.
Has working remotely affected your work on OPTIMAI in any way?
Not dramatically, given that we mostly collaborated with the project partners remotely even before the pandemic, and most of our activities can be carried out virtually. We are, however, looking forward to meeting all the partners face to face once Covid permits. Also, the lack of in-person events has meant that we have had to find alternative ways of raising awareness and engaging stakeholders virtually.
How do your professional interests match the objectives of OPTIMAI?
Linda: There are several aspects of the work that I'm passionate about and that match the aims of the project. These include communicating complex issues clearly and presenting objectives and outcomes in an engaging, intelligible way.
Gillian: Digital and social media are becoming critical communications tools for all organisations and companies. With the online landscape being so changeable by nature, learning (and re-learning!) how to create the most engaging and informative media is a challenge that I enjoy. OPTIMAI lends me the chance to interact with stakeholders that I may not have previously encountered, and help create change in a dynamic industry such as manufacturing.
What makes your organisation ideal for participating in the research/activities of OPTIMAI?
We have been a dissemination partner in EU-funded research projects since 2009, during which time we have worked on 13 projects, spanning many sectors, including smart manufacturing and artificial intelligence. For these projects, including ManuVAR, Use-it-Wisely, and Factory2Fit, the CARR team has extensive experience in developing relationships with stakeholders across Europe, promoting the projects through key channels, engaging with European policy makers, and managing traditional and digital media campaigns across a range of platforms. Thanks to the decades of relevant experience, we are ideal as a partner in OPTIMAI.  
Could you describe the overall expected impact of the OPTIMAI project in three words?
Future-proof manufacturing processes.
What would be your advice to anyone interested in getting involved with a Horizon Europe project?
Take the plunge! Horizon Europe calls for proposals are highly competitive, but also highly rewarding. EU-funded research and innovation projects bring together incredible talent, energy, and ideas from across Europe and beyond. You get to work on topics that matter. You get to share your knowledge while continuously developing new skills. You will not regret it.
Thank you both for taking the time to speak with us! We look forward to more updates from the team at CARR.
Visit our website for more information about the OPTIMAI project. To keep up to date with the Behind The Scenes series and all OPTIMAI news, make sure to sign up for the OPTIMAI newsletter on our homepage and follow us on Twitter, LinkedIn, and YouTube.