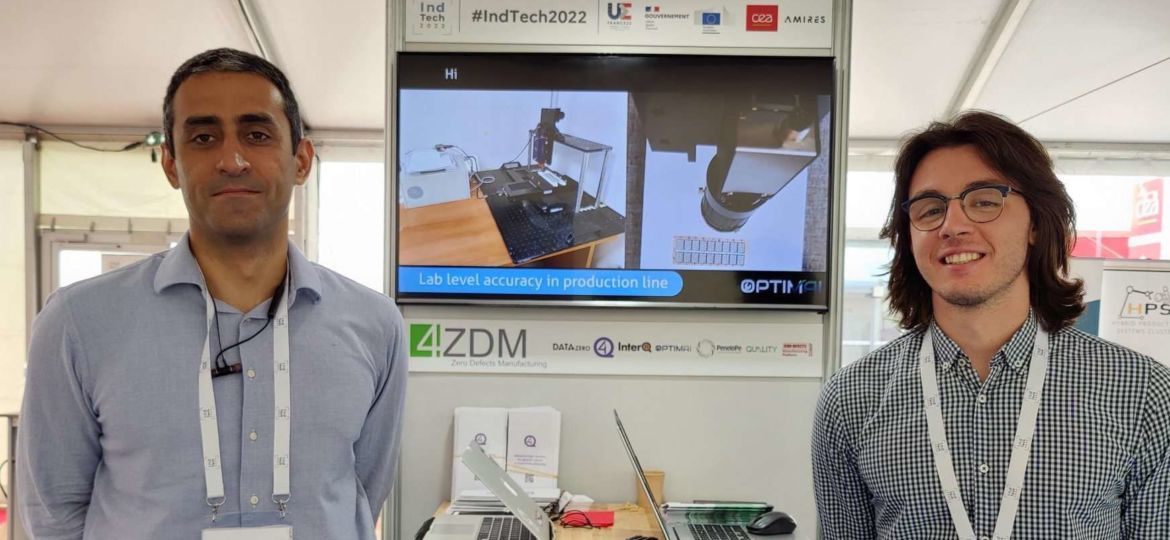 Team OPTIMAI attended the 2022 Conference on Industrial Technologies, IndTech2022.
The conference took place from 27-29 June 2022 in Grenoble, France. Here, industry and innovation leaders, scientists, researchers, and public decision-makers gathered to attend presentation sessions and discuss matters relating to European Industry.
Topics addressed during the conference included the green and digital transformations, sustainability and circularity in relation to Industry, the use of AI for manufacturing, human-centered technologies, and more. The event also provided stakeholders the chance to discuss the post-Covid challenges for European Industries and solutions toward better economic resilience.
IndTech2022 hosted a number of exhibition villages, where attendees could hear about successful and relevant R&I projects. OPTIMAI, represented by partners from CERTH, hosted a booth in the EFFRA exhibition village, alongside sister project DAT4.Zero, i4Q, and Penelope. The booth contained a wide range of media and information for attendees to engage with, such as the 4ZDM introduction video, project flyers, and poster columns.
During their time at the conference, Team OPTIMAI interacted with a large number of industry stakeholders, exploiting the project and its aims. You can check out the project's booth in the images below!
For more updates about the OPTIMAI project, subscribe to our newsletter at the bottom of our homepage, join our LinkedIn forum, and follow us on our Twitter & LinkedIn pages.