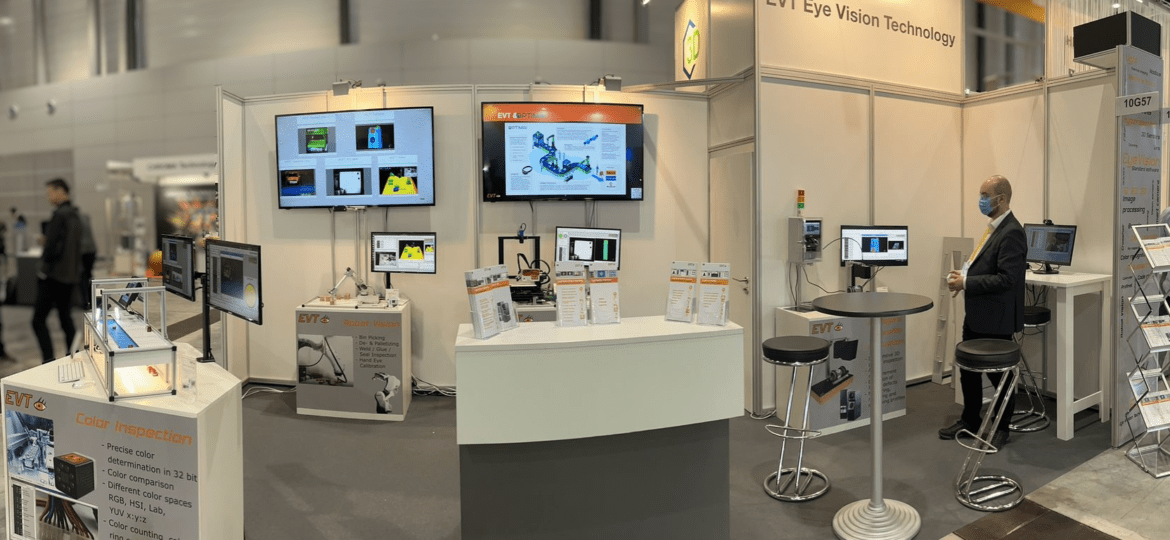 In October, OPTIMAI partner EVT participated in two exhibitions and presented the OPTIMAI project to interested stakeholders from around the world.
The exhibitions attended were VISION 2022 which was held from 8-10 October 2022 in Stuttgart, Germany and the Boston Vision Show which was held from 11-13 October 2022 in Boston, MA.
VISION is the World's leading trade fair for machine vision and provides an overview of all important trends, suppliers, and innovations. Key players in the industry as well as smaller but highly specialised companies from all over the world are represented with their latest product novelties. The next VISION exhibition will be held from 8-10 October 2024. Read more about the event here: VISION Stuttgart.
Boston Vision Show is North America's leading machine vision and imaging trade show and conference that showcases the latest products. It provides opportunities to meet leading companies, and offers educational sessions taught by top industry experts. Read more about the event here: https://www.visionshow.org.
EVT had its own booth at both exhibitions and took the opportunity to enhance their relationships with other members of standardization organizations, such as the European Machine Vision Association (EMVA) , the German Mechanical Engineering Industry Association (VDMA) and the Universal Machine Technology Interface community (umati). EVT's development team really appreciates the fact that constructive meetings can be held within the context of these events, which enable mutual testing and professional exchange which results in sustainable development of their OPC UA and GenICam interfaces.
Check out the EVT booth in Stuttgart in the image above!
For more updates about the OPTIMAI project, subscribe to our newsletter at the bottom of our homepage, join our LinkedIn forum, and follow us on our Twitter & LinkedIn pages.