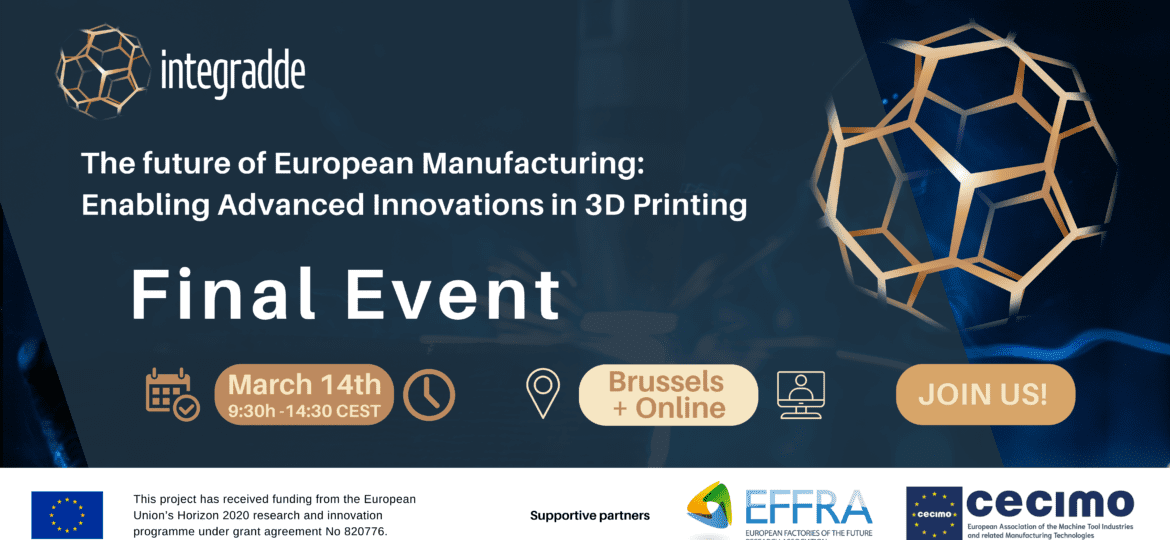 On Tuesday, Mar 14, 2023, the H2020 INTEGRADDE project is holding its Final Event 'The future of European Manufacturing: Enabling Advanced Innovations in 3D Printing' in Brussels (hybrid, format).
The event will take place from 09:30 to 14:30 at La Tricoterie. The event is supported by the European Factories of the Future Research Association (EFFRA) and European Association of the Machine Tool Industries and related Manufacturing Technologies (CECIMO).
The conference (which will include different discussions and a networking lunch) will bring together high-level policymakers, industrial actors, research institutions, and other relevant stakeholders to exchange views on the current most compelling issues related to 3D Printing in the manufacturing sector.
This event will offer a networking space for like-minded people within the manufacturing industry while showcasing the latest advancements in Additive Manufacturing, the project's achievements and upcoming test-before-invest opportunities from related EU projects for technological innovations. The event will also offer an overview on the current and future positing of 3D printing from the perspective of some of the most accredited voices in the industry.
To register for this event and check the agenda, please click on this link.
For more updates about the OPTIMAI project, subscribe to our newsletter at the bottom of our homepage, join our LinkedIn forum, and follow us on our Twitter & LinkedIn pages.