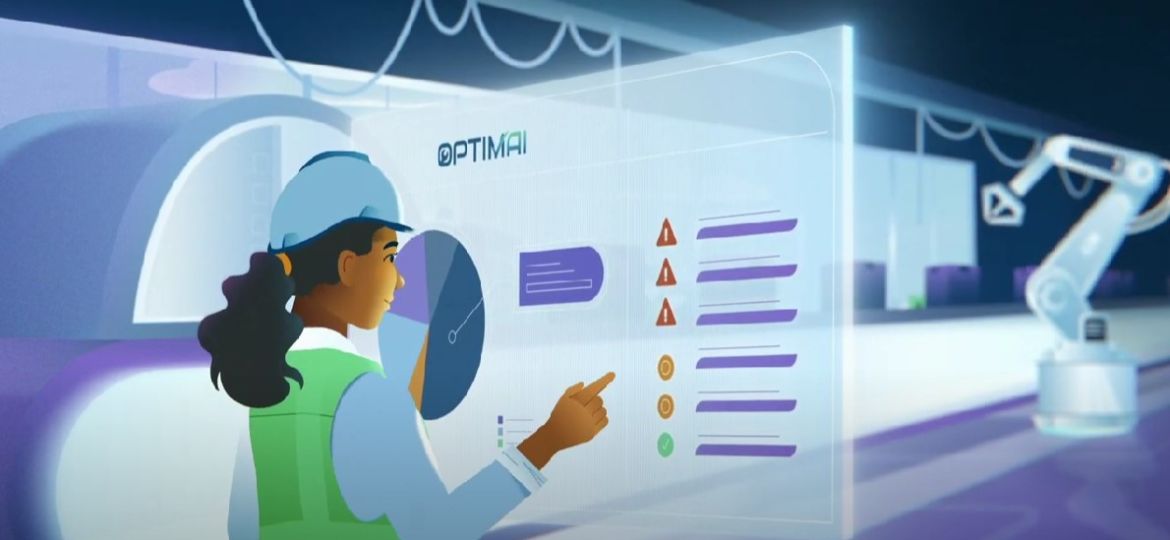 'OPTIMAI in a nutshell' – Our new animation video explains the OPTIMAI concept in less than three minutes.
Digital technologies are driving change across the manufacturing industry as we are moving from Industry 4.0 to Industry 5.0. Factories across Europe are trying to navigate the digital transformation journey and to work for a greener, more efficient and more sustainable industry. To achieve excellence, factories are still looking for new ways to improve the quality control of both their manufactured products and their manufacturing processes.
Is it possible to achieve what is referred to as zero-defect manufacturing? The answer is YES, and the OPTIMAI project is driving innovation in this area. OPTIMAI introduces new technologies designed to:
reduce scrap

 eliminate defects

 enhance workers' performance and satisfaction through AR and human-centric AI,

 maximise the productivity and

 improve the quality of shop floor processes.
The OPTIMAI toolkit is first piloted in three factories: a lift manufacturer in Greece, an antenna manufacturer in Spain and a microelectronics assembly facility in the UK.
After the piloting stage, the highly adaptable solutions will be applied in a wide range of industrial settings and brought to market across Europe.
The OPTIMAI solutions optimise production processes by connecting different parts of the manufacturing life cycle through a unique mix of
 Smart Instrumentation,

 Metrology,

 Artificial Intelligence,

 Virtualisation and

 Augmented Reality
Let's have a look at the OPTIMAI toolkit. Core parts include:
a decision support system that detects and issues early notifications of defects,

 a continuous production monitoring and quality inspection system powered by smart sensors, 

 

an intelligent marketplace for recycling of scrap,

digital twins for simulation and forecasting of industrial processes, and

a comprehensive ethics and regulatory framework surrounding the technologies.
By bringing together and advancing enabling technologies that strengthen the collaboration between humans and machines, OPTIMAI is paving the way for a smarter and more sustainable, digitalised European manufacturing domain.
Learn more about the OPTIMAI project here:
Website: https://optimai.eu/
Twitter: https://twitter.com/OPTIMAI_Project
LinkedIn: https://www.linkedin.com/company/opti...
OPTIMAI has received funding from the European Union's Horizon 2020 research and innovation programme under Grant Agreement No. 958264.