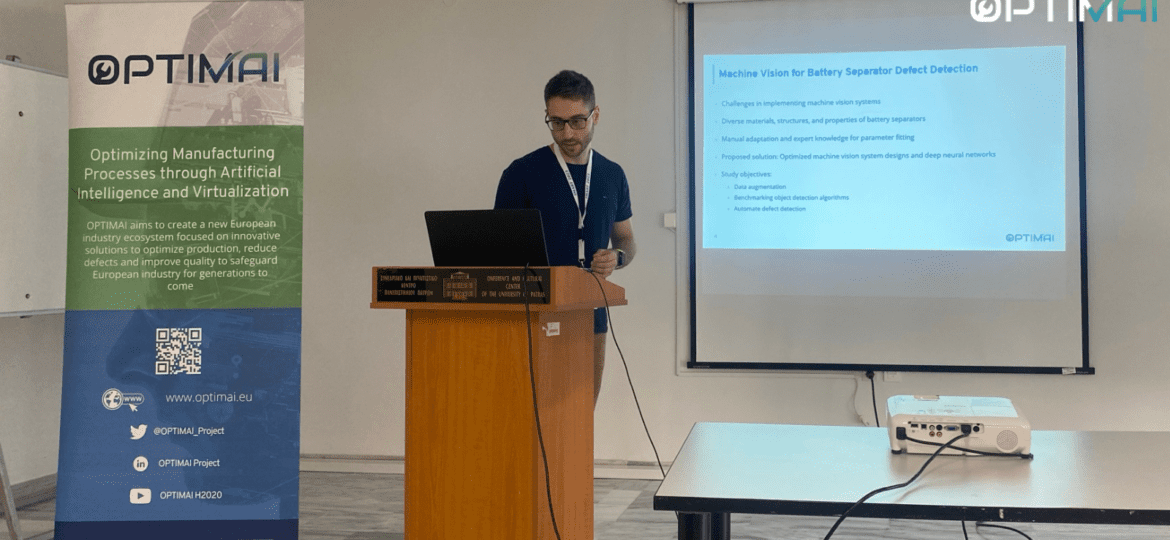 At SMART2023 on 4th July 2023, Lampros Leontaris, Research Assistant at Information Technologies Institute, Centre for Research and Technology Hellas (CERTH-ITI), presented the paper Automated defect detection in battery line assembly via deep learning analysis.
Authors: Anastasios Tzelepakis, Lampros Leontaris, Nikolaos Dimitriou, Evangelia Koukidou, Dimitrios Bollas, Aristoklis Karamanidis, Dimitrios Tzovaras
Brief description: As automated quality control solutions are difficult to integrate in the manufacturing process, a common practice during battery line assembly involves the manual investigation of the battery parts, which is both inefficient and time consuming. This study focused on a challenging production stage in the assembly line where human inspection is not feasible, and the appeared defects can only be inspected in the later stages of production. For this purpose, the authors propose an in-situ system that automates the quality control process and performs defect diagnosis by accurately identifying anomalies in the production stage in question. The implemented system aims to monitor the production line and visualise defective occurrences in the battery assembly line, by utilising deep neural networks (DNNs) and examining the defects in real production samples, collected with a machine vision system.
Findings: YOLOv8 achieved the highest performance in terms of object detection algorithms. YOLOv8 also exhibited a faster inference time compared to others. The fast inference time enables real-time defect detection. The proposed approach using a machine vision system demonstrated accurate detection of defect location and size. It offers potential to enhance production efficiency and reduce costs associated with defective separators.
Future work: Future work will involve expanding to other stages in the production process and improving the lighting conditions in the inspection scene.
Interested in finding out more? The paper will be published as an open access publication in the SMART 2023 conference proceedings.
Want to keep up to date with all things OPTIMAI and Industry 4.0?  Be sure to follow us on Twitter & LinkedIn,  to never miss an update.