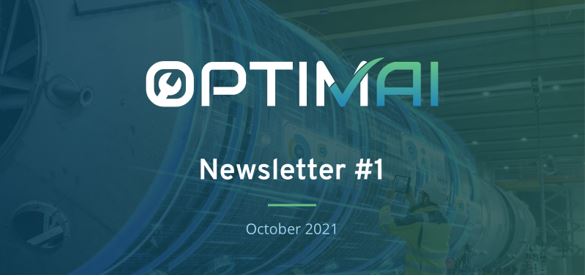 Welcome to the first OPTIMAI newsletter.
We are ten months into our three-year project, and we are delighted to share some updates on our progress and recent highlights.
In this issue, we focus on our online presence, the people working on the project, relevant publications and events as well as our collaboration with related projects.
OPTIMAI has received funding from the European Union's Horizon 2020 research and innovation programme under Grant Agreement No. 958264.
Autumnal greetings,
The OPTIMAI team
To keep up to date on the latest OPTIMAI developments, visit our website, follow us on Twitter and LinkedIn and subscribe to our YouTube channel.
You will find details on the pilots, events, publications, deliverables and more across our digital platforms. Take a look at our first YouTube video interview below:
An Autonomous Illumination System for Vehicle Documentation Based on Deep Reinforcement Learning
L. Leontaris, N. Dimitriou, D. Ioannidis, K. Votis, D. Tzovaras and E. Papageorgiou.
In IEEE Access, vol. 9, pp. 75336-75348, 2021.
DOI: 10.1109/ACCESS.2021.3081736
Short Survey of Artificial Intelligent Technologies for Defect Detection in Manufacturing
E. Papageorgiou, T. Theodosiou, N. Dimitriou, P. Charalampous, D. Tzovaras, G. Margetis, I. Samakovlis.
The Twelfth International Conference on Information, Intelligence, Systems and Applications (IISA 2021) 12-14 July 2021, online.
DOI: 10.1109/IISA52424.2021.9555499
Curious to know what is happening behind the scenes of OPTIMAI?
In our Behind the Scenes series, we spotlight one OPTIMAI partner organisation at a time and share interesting details about the people involved in the project and their work. You will find the interviews here.
European Zero-Defect Manufacturing (ZDM) workshop
OPTIMAI Coordinator Nikolaos Dimitriou from CERTH represented OPTIMAI at the Digital Tech Talk "European Zero-Defect Manufacturing (ZDM) Landscape: State of Play". The event was hosted by the Digital Factory Alliance on Thursday 8th July 2021. Read more here.
Beyond 4.0 Exhibition
OPTIMAI participated in the Beyond4.0 exhibition in Thessaloniki Greece, 14-16 October 2021. The main theme of the event was The Future of AI.
Read more here.
OPTIMAI is part of the 4ZDM cluster, the European initiative around the Factories of the Future Zero Defect Manufacturing priority which aims to promote the adoption of zero-defect production and quality control systems by industry.
OPTIMAI's sister projects funded under DT-FoF-11-2020/DT-FoF-10-2020 are InterQ, DAT4.ZERO, I4Q and PeneloPe.