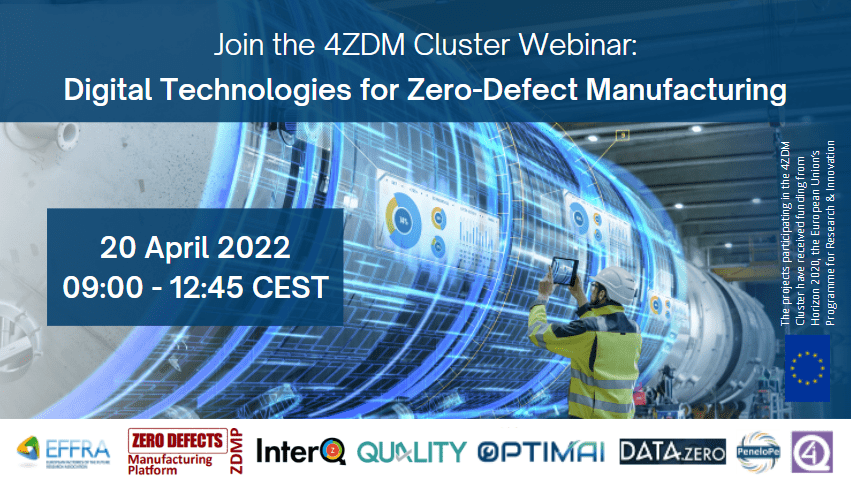 Press release 
The 4ZDM cluster of EU-funded zero-defect manufacturing projects and the European Factories of the Future Research Association (EFFRA) co-organize the webinar Digital Technologies for Zero-Defect Manufacturing on Wednesday 20th April, 09:00am-12.45pm CEST
The event is free of charge and open for registrations at https://tuni.zoom.us/webinar/register/WN_bq4qc0jKR02iUqlsKmdymw
19th April 2022: The key EU projects behind the 4ZDM initiative have joined forces to present the latest developments in zero-defect manufacturing and quality control in smart manufacturing. The open webinar on Digital Technologies for Zero-Defect Manufacturing on 20 April 2022 will offer insights into digital manufacturing platforms for connected smart factories, digital solutions for data quality and large-part high precision manufacturing.
Manufacturing industries are constantly looking for new ways to improve quality control for both manufactured products and manufacturing processes. The ongoing digital transformation and the fourth industrial revolution, termed Industry 4.0, have put a spotlight on the zero-defect concept. The projects within the 4ZDM initiative are working to create a new ecosystem of Industry 4.0 solutions to transform European industry by reducing production costs, production time, errors and scrap.
At the heart of the zero-defects infrastructure is a set of digital solutions and approaches that provide the ability to connect different parts of the manufacturing life cycle through digital data supporting the use of information for intelligent automation and smarter, more efficient decisions.
The projects coordinating this event have received EU funding of more than €80 million in total to achieve global industrial leadership, to improve the quality of manufacturing operations and shape the factories of the future. This event will provide the opportunity to learn from projects at different stages of maturity about ZDM architecture, AI-driven sensors, digital twins, and other new methods and instruments for process control.
Join the webinar to find out more. The full agenda including the list of speakers is available here.
Ends